Are you a musician and would like to donate your song recording to Eric's Wish? If so please get in touch ... via contact page. Thank you so much.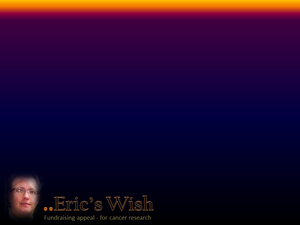 Contributing Song Artist Bios ...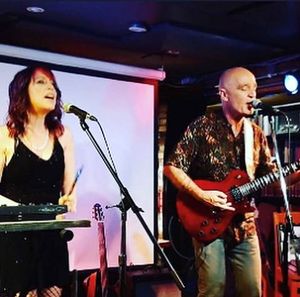 Chris Birkett-  Chris Birkett (seen here with Shari Tallon) Is a Grammy, Juno, and Polaris prize winning record producer, best known for his albums he produced for Buffy Sainte-Marie, and Sinead O'Connor's Nothing Compares to you. He is a singer/songwriter and multi-Instrumentalist and has released his own solo albums, along with the debut album with The Free Spirits called 11:11.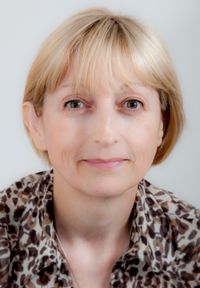 Lorraine Brunning – A UK musician.  I have been singing all my adult life and was for many years a professional actor. I worked extensively in theatre/television over those years and from time to time was lucky enough to be involved in musical theatre productions – probably my favourite thing to do. Apart from taking acting roles I was a regular performer at the Ritz in London and Pizza on the Park – mainly singing French music. Nowadays I sing for pleasure and this song which I recorded some years ago is a fusion between my love of the great American song book and French Chansons.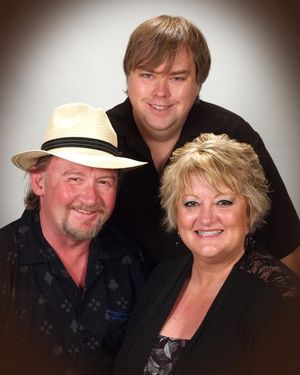 Custom Made Band -  A US band.  Custom Made Band based in Minnesota, USA is made up of 3 local musicians;- Steve Mahlum, Kris Nelson-Jensen and Jay Skrukrud who take you on a musical memory tour of the 50's, 60',s and 70's classic rock and country.  http://stevenkris.com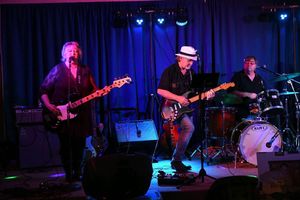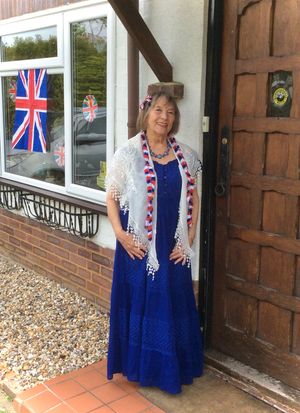 Mary Cottle - A UK singer, and cancer survivor - My name is Mary Gornall Cottle.  I am a mother and grandmother and I am 81 years of age.  I have had two operations on my face for cancer and most recently a breast cancer operation.  I'm pleased to say I have survived all.  I am on a cancer drug now for five years.  It is because of this I want to help Eric Mahlum to realise his wish and his dream to find a cure by raising funds for cancer research.  In my younger days I enjoyed singing on stage in amateur operatics, but what I have enjoyed most of all has been singing in many church choirs.  I enjoy doing watercolour painting, arranging flowers, reading, cooking and most of all singing.  Oh to be young again!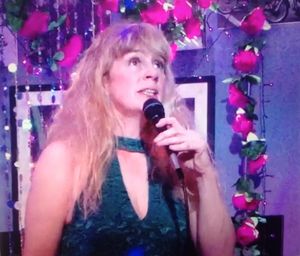 Melanie Dunhill  A UK singer.  Through singing, song writing and producing music my heart and soul find their voice. I am honoured to contribute to Eric's Wish appeal in memory of my parents.  Cancer took my cherished Mum in 2018, and sadly Dad wasn't strong enough to live without her. So, I to honour their memory I do all I can to further research into curing this terrible disease, so other families may be spared losing their loved ones.  I am UK based, on Facebook and have a YouTube channel.  Click here for link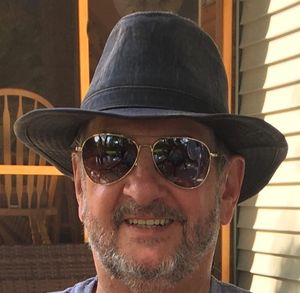 Barry Fish - A US professional musician - see Barry's full bio, available by clicking the link you will find just after the end of the bios below ...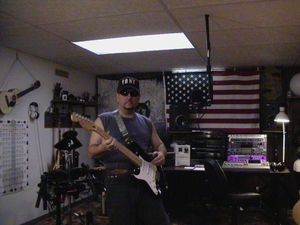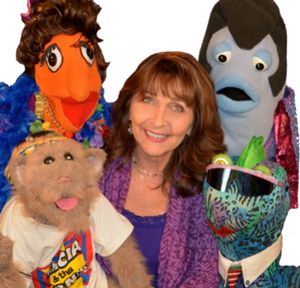 Tricia Haynes - Tricia, a US musician, has been a full-time, professional singer, actress, songwriter and producer all her adult life, and has performed across North America.  She has starred in dinner theatre, night clubs, on radio, television and in film.  In the 1990's began writing music and scripts for children's entertainment.  She then created a colourful puppet troupe called The Toonies, and within a year it grew into a full-time position.  Tricia and her Toonies have entertained across the US, Hawaii, Mexico and Canada. For Tricia's website: Click here  https://thetoonies.com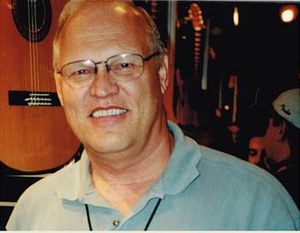 Jerry D. Knapper - A US musician, says ''When I was 8 years old, my mother started me on guitar. I played in a small group in high school and in a band with Arthur Miller right after I graduated. I started working in music stores in 1965 and in 1971 opened my own music store in Montevideo, Minnesota. It was during this time that I was introduced to the pedal steel guitar. I was ordained as a pastor in 1973 and played gospel music pretty much exclusively from 1968 to 1987. In 1987 I moved to Tulsa, Oklahoma, and was introduced to guys who played with Bob Wills, Freddy Fender, Freddie Hart, and some top celebrities like Gene Autry and Moe Bandy.  I worked with S. Louis Music as one of their Regional Sales Managers for 20 years starting in 1987 and met and worked with many of the R&R stars during those years. On the pedal steel, I had the thrill of sitting in with Billy Parker and David Frizzell and even had the opportunity to play steel with Carrie Underwood when she was in college and had not yet been discovered. Lastly, I served as the steel player for The Heartland for 6 years. Now fully retired, my wife and I still play music for the seniors in Lakeland, Florida, where we live''.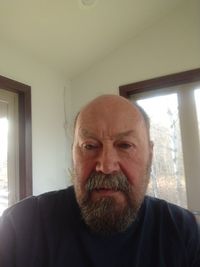 Lionel Kull - A US musician, says ''I am 67 years old at the time of recording this song called Wait and See.  I guess my musical background started when I was in high school.  Started a band playing drums with our very own Steve Mahlum.  This band was known as the Mystical Experience.   Moved to another high school band called Shadow and then put my way through college playing drums in various groups.  Later in life I did a solo acoustic act for approximately 10 years.  Wrote this song for my wife Debra at approximately 30 years old after feeling bad about being out with the boys. My wife and I, our two children and grandchildren all live in the St Cloud, Minnesota area.  Feel so blessed that we can all see each other often, as our homes are within 5 miles of each other. Hope you enjoy the song''.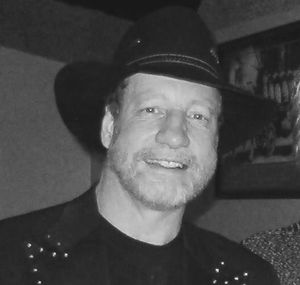 Al Lang  - A US musician, is married to his wife (Pat) of 46 years,  has four grown children, with grandchildren and 2 great grandchildren. His wife and family have been his biggest fans and at times biggest critics. 
He started performing music in public around the age of 17. He grew up listening to his grandpa, uncles, aunts play and sing. He began listening to the great guitar players such as Chet Atkins, Merle Travis and the Beatles. Being a self-taught musician he learnt the guitar with a few basic chords, with help from his uncles and a Mel Bay Guitar book that his father bought him in 1966.  
He's now been performing music for over 50 years, which has included performing in many different bands with great talented musicians.  
His biggest influences in the traditional country music field have been Merle Haggard, Marty Robbins, Hank Snow, Chet Atkins, Johnny Cash, Gene Watson, and Lefty Frizzell just to mention a few.  After 47 years of On the clock work he is now retired, with the current goals to keep performing in the styles of those great traditional country artists, for as long as God will allow.  With more time to share and express his love for the music that he plays, he is currently performing at many venues, and especially likes playing for the Senior Living/Retirement Centres.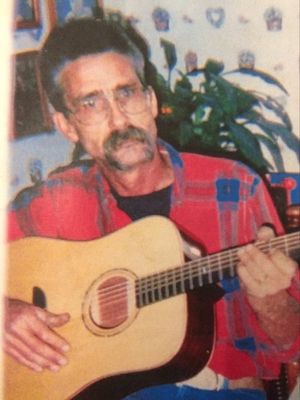 Kelly Mead - A US musician. 
Kelly was born with the gift of music inside him. He did not know how to read music, but at a young age taught himself to play guitar and drums by ear. He went on to play in many bands throughout his years.
Kelly was also a gifted singer, songwriter. Writing seemed to come easy to him. Shortly after his Mother's passing Kelly blessed his family with this special song, Mama's Ring.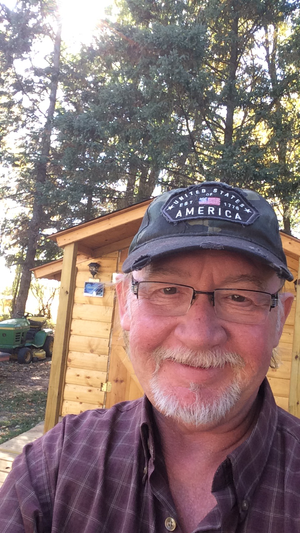 Steve Mahlum - A US musician.  As the proud father of Eric I would like to thank everyone who participates in this musical event and memorial for such a great cause.  I have been playing in bands for many years in West Central Minnesota, playing everything from Classic Rock to Country and have learned so much from fellow musicians in these bands.  Currently playing with "Custom Made", an oldies and classic rock band.  We have been so lucky to have opened for so many Nationally known acts.  Eric loved helping people in any way possible.  Through this endeavour we hope to carry on his legacy of fighting cancer and other major diseases.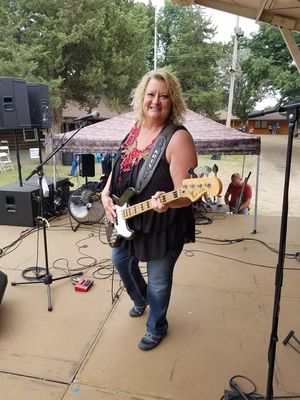 Kris Nelson-Jensen - A US singer.  I am currently a singer/songwriter and bass guitar player in a band called Custom Made from Central Minnesota, USA.  I have performed music of all types since a very young age.  Music has always been my way of reaching out to help people heal.  I have worked as an Activity Director in long term care in Minnesota for many years and am blessed to see first hand how music impacts lives.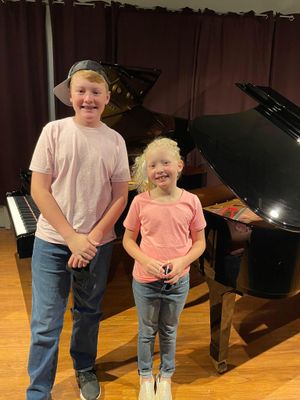 Logan & Lilly Petersen - Children from Minnesota.
Lilly and Logan Petersen, piano duet from Central Minnesota, became interested in music under the influence of their grandpa at an early age. Logan has played the piano for four years and trumpet for three years while Lilly has played the piano for six months and the violin for a year. They were excited to play on the CD, in honour of their uncle Eric, for their first collaboration together.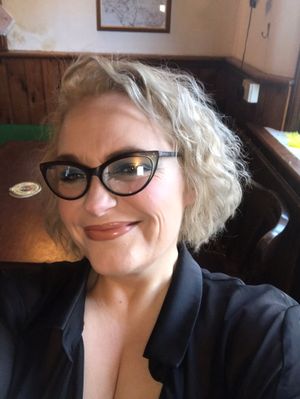 Lisa Porter - A UK singer -  When not belting out AC/DC covers with Suffolk's finest rock covers band, Beergut 100, I sing soul, motown, pop and anything else that can make people dance.  I'm also fond of a bit of an acoustic session or two, especially when it involves my mates.  This led to the formation of Kettlefish, (who can often be found in the corner of the pub on a Saturday afternoon arguing over whose round it is, whilst picking on Tommo).   I am also responsible for some appalling ukulele playing.  Can usually be found with a pint of Gin & Tonic and a guilty expression.
The Ditch Dwellers  -  UK musicians.  The Ditchdwellers are an acoustic duo who play blues, soul and rock covers, usually in pubs!  Our contribution is a studio cover of the Pink Floyd classic, with Bob Dellar singing vocals and Nick Browning on guitar and ukeleles, with guest appearances from two mates with a lifetime of experience making great music, namely Nic Neale and George Hinchliffe.  The track started life as someone else's project in 2016 - Nick contributed some tracks to a recording marking the last sugar harvest in Hawaii.  I always thought we should do a proper Ditch Dwellers version as it's in our set list but there never seemed the time until the coronavirus came along.  So it was finished off in self-isolation, percussion from Lanzarote, vocals from Suffolk added to piano, guitar and ukulele recorded earlier in London, Kent and another part of Suffolk.  There's serendipity in the theme of the lyrics for the current times.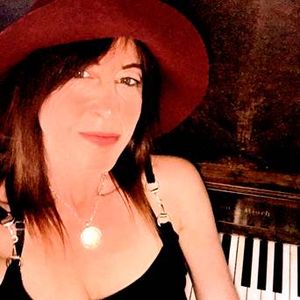 Shari Tallon - A Canadian musician. 
Shari Tallon is a composer, pianist, flautist and recording artist.  She showcases her original music with her Sunday Night Serenade online concerts and plays with her band the Free Spirits.  Shari is also a Music teacher, and advocates for music and Mental Health.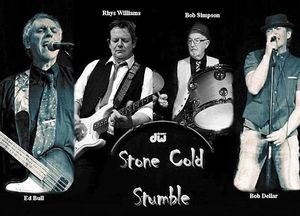 Stone Cold Stumble
- are a UK, 4 piece band, based in the town of Cambridge, who play a blend of original and Traditional Blues, Soul and Swing music. Combining West Coast, Chicago, Texas and British Blues influences, the band's punchy songs are played with swing and authenticity. The band comprises Bob Dellar on Vocals and Harp, Rhys Williams on Guitars and Vocals, Ed Bull on Bass and Vocals and Bob Simpson on Drums. Stone Cold Stumble play dance music you can listen to, and listening music you can dance to - and most certainly music you can drink to!  Band website : https://www.stonecoldstumble.com/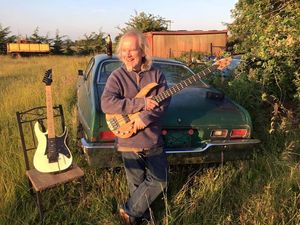 Tommo Thomson - A UK musician.  Born in 1958, Tommo took up music at an early age. "My first instrument was the egg-slicer", he recounts, "it had a unique sound, and I think it was in some kind of weird micro-tonal tuning interval, but I could still get a tune out of it".  After finding that no-one at school wanted him in their band he decided to change instruments. "I took up the guitar instead, but, due to one or two issues, including being unable to play, I still couldn't get into a band".  Years passed, then, out of the blue, a drummer friend suggested that Tommo try playing bass since the band he was in ("The Sugar Glyders") needed a bass player.  Tommo soon realised that bass was far easier than the pesky guitar, and he's never looked back. Tinnitus, a ruined liver and a knackered back are now living proof of 62-year-old Tommo's dedication to heavy basses, loud drummers, 4X12 cabs and booze. "I wouldn't change a thing", he quips, "playing live is better than anything else I can think of".  And Tommo's advice to budding musos? "Never take it too seriously, and practice a lot! Be both as good as you can and reliable, but have fun! And no matter how technically poor you may think you are, remember that there are people out there who would give their eye teeth to be on the stage that YOU'RE standing on''! Music forever!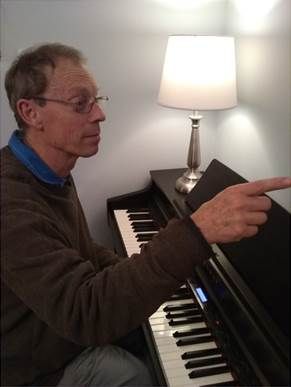 Chris Westbrook - A UK musician says ''I took my Dad's ukulele into my prep school when I was 10 and armed with 2 chords my friend and I just started to write songs.  He wrote the words, and I wrote the music.  The head heard we had recorded them, and made the whole school listen to them over the tannoy system during teatime! 
In my early 20's (1973?) I started to write some punk type songs with my next-door neighbour Dave (best man).  All the songs were demo-ed in London as I didn't play any instruments – they cost £30 each! 
I met my wife-to-be at Chichester Baptist church (1980), and we wrote some Christmas carols together, and soon after our marriage, started a family. 
In 1985 we started our own business selling agricultural products to farmers, and by the year 2000 employed 20 people and had a large shop and yard to manage.  All this meant that there was hardly ever any time for writing any songs.  Plus I've always needed a lyricist anyway.  But a Christian lady called Kaye Jones sent me the words 'Be My Comfort' in 2001, for which I composed a tune. I rearranged this recently, and this is what you hear on this CD. 
In 2003 we sold part of our business, and started another one as a builders' merchant, which we then sold a few years later, then in 2006 we revamped the old agricultural business, supplying farmers all over the UK, which my wife and I run together presently via the internet. 
Not much time for music during the last few years, but in 2020 I entered the BBC Radio 3 Christmas carol competition and was one of the 6 finalists out of some 1,300 entrants, and this CD features the BBC Singers' live radio broadcast''.