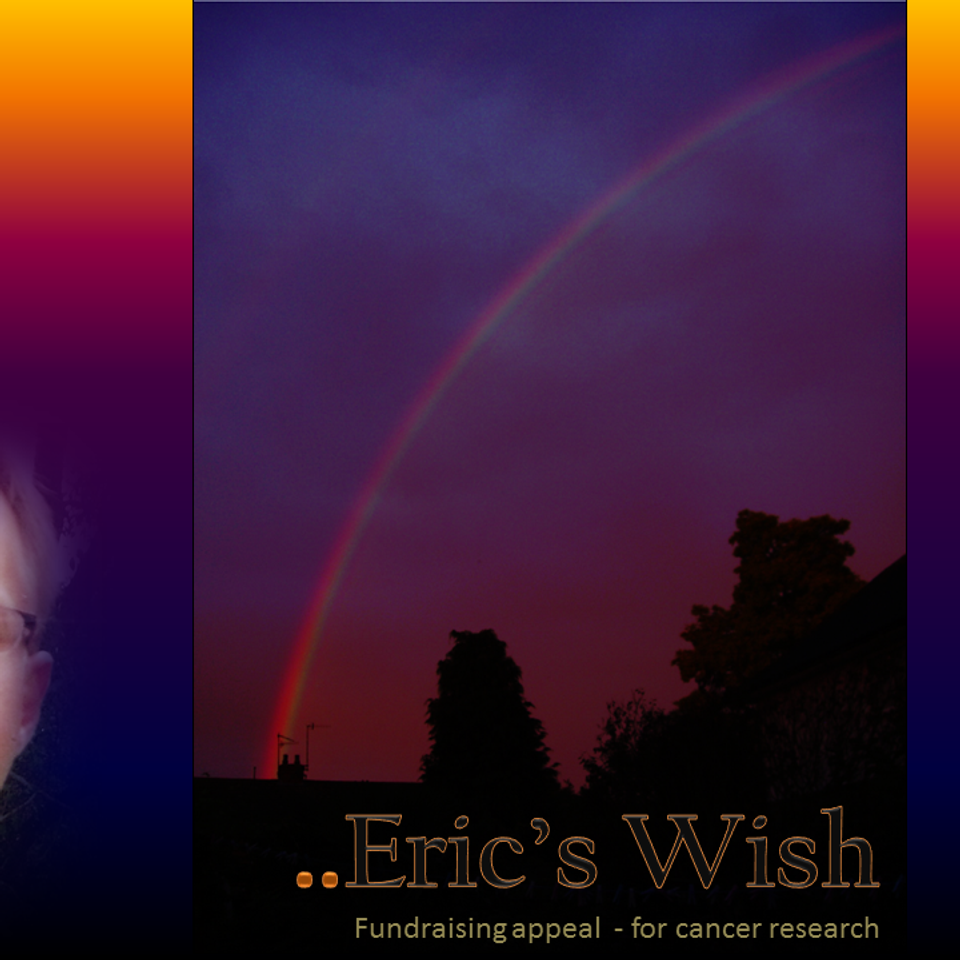 About
Eric's Wish Cancer Charity Appeal
Mission Statement
Commitment to Responsible Fundraising
Eric's Wish cancer charity music fundraising appeal is undertaken on the basis of full commitment to responsible fundraising in line with guidance for appeal organisers, as issued by the UK Fundraising Regulator on 7 June 2018, address: 2nd Floor, CAN Mezzanine 49-51 East Road, London, N1 6AH.
Fundraising Appeal Purpose/Aims
Organised in memory of Eric Wade Mahlum, a young, gifted American cancer research scientist whose research career was tragically cut short when he was killed in a motoring accident in October 2015, Eric's Wish cancer research charity fundraising appeal is being undertaken for the purpose of raising money to further research into cancer and thus continue Eric's legacy.
Eric's Wish cancer research appeal aims to raise as much money as possible via both direct donations and through music sales (via its music download and CD sales website) during the duration of the appeal, to benefit two named beneficiary cancer charities, one in the US and one in the UK.  These are;- These are;- Renville County Walk in The Park in the USA and Brain Tumour Research Campaign in the UK.  Both these organisations are aware of Eric's Wish cancer charity appeal and support its fundraising aims.
How will monies raised through Eric's Wish Music Sales and donations be paid to recipient cancer charities.
All monies raised by Eric's Wish cancer charity fundraising appeal, after deduction of project expenses, (see below) will be donated on a quarterly basis to its two named beneficiary charities, with the total donation to be split on a 50:50 basis between them both. 
Fundraising Appeal Expenses
Eric's Wish cancer charity fundraising appeal aims to keep its project costs to a minimum, in order that the recipient beneficiary charities can receive a maximum percentage of all project profits from donations received or via its music sales. 
No project organiser or contributing musician will receive any remuneration from Eric's wish and are donating their time, services and song recordings voluntarily without any charge. 
Project costs include;- Eric's Wish website hosting/domain fees, banking charges, CD production costs and postage costs, song licencing fees together with mechanical royalty payments to song rights owner(s).
The more music sold or donations received, the more the beneficiary charities will receive.
Banking Administration
Given Eric's Wish cancer charity fundraising appeal is a personal fundraising campaign by a UK private individual on behalf of two named cancer charities, all appeal monies will be processed through the appeal organiser's UK bank account before profit payments are passed on to the appeal's named beneficiary charities.  For the second year in a row, the fundraising appeal organiser has made a personal , non-refundable donation of GBP £1,000 to Eric's Wish cancer charity appeal.
Arrangements for Distribution of Appeal Funds in the Event of either Recipient Charity Ceasing to Trade or Exist.
In the event that either Renville County Walk in the Park or the Brain Tumour Research Campaign ceases to trade or exist during the duration of Eric's Wish cancer charity appeal, the remaining charity of the two will receive 100% of the appeal profits. 
Should both cease to trade or exist, another suitable cancer charity(ies) in either the US or UK will be confirmed as alternative project beneficiary(ies) and their name will be published on the project website.
Eric's Wish thanks you personally for your support